Projects & Works / Relevance: instant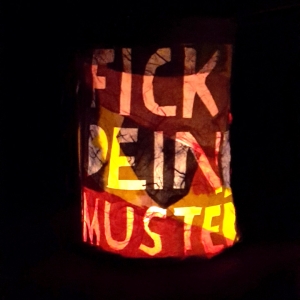 Subversive Laterne zum Laternelaufen. Material: Karton, Krepppapier
[ read more ]
Schwein mit Verletzung am Ohr auf Schwein Material: Glücksschwein, Schweineschmalz mit Kruste Photos: Florian Reischauer
[ read more ]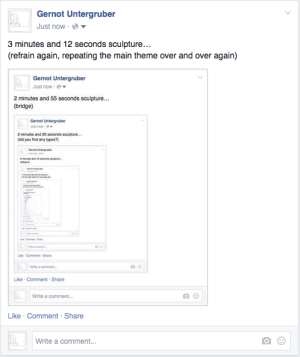 3 minutes and 12 seconds passed while posting a screenhot, making a screenshot of the posing on Facebook, posting the screenshot again, making a new screenshot, posting, screenshot, posting, screenshot...
[ read more ]

Screenshots von Amazon.de vom 6. Dezember zum Suchbegriff "Teuerstes Produkt" für die Rubriken "Alles", "Küche & Haushalt" und "Elektro & Foto&quot...
[ read more ]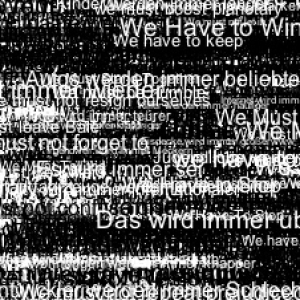 Re-using the content spiders from an old project Modal Auxiliaries to create visual output by for randomly drawing words and shivers of sentences in your browser. Do you concur with ...
[ read more ]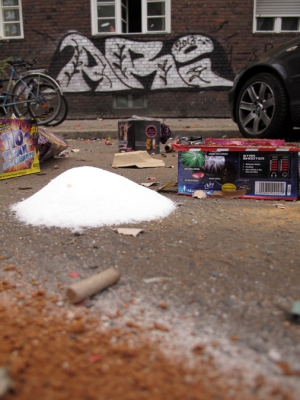 Materialien: Überreste verwendeter Silvesterfeuerwerkskörper, Flaschen, 0.5kg Zucker
[ read more ]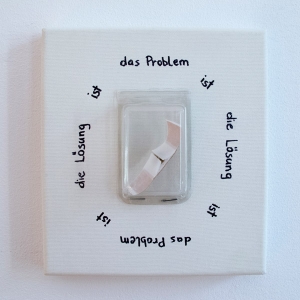 goldene Reißzwecken auf Pflaster in Plastik auf Leinwand 18x20cm mit Text Kombiangebot: die Lösung und das Problem - beides in Einem Verkauft bei der Kunstauktion...
[ read more ]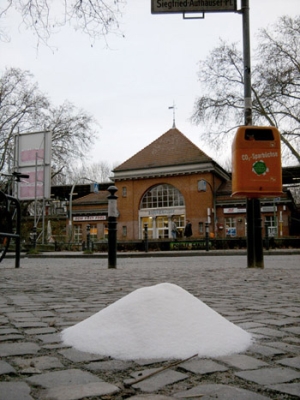 Zuckerberg wurde am 31. Dezember 2011 in Berlin in der Nähe der S-Bahn Station Sonnenallee in berühmt-berüchtigten Szenebezirk Neukölln gesichtet.
[ read more ]
Der Tofu Index von Dezember 2010 Diesmal im Vergleich: Wien VS Berlin Nicht nur, dass der TofuIndex in Wien höher angesetzt ist als in Berlin, obwohl die Sojabohne...
[ read more ]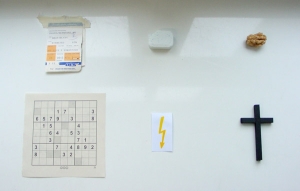 32 Lines of Code 32 Lines of Perl Code. Each function triggers a sound event. The last function "reflect" rewrites and overwrites its own source. At the end "reflect" runs...
[ read more ]